Ameek Ashok Ponda
Massachusetts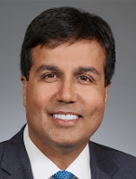 Sullivan & Worcester LLP
One Post Office Square
Boston, MA 02109
United States
Tel: 617 338 2443

Email:

aponda@sullivanlaw.com
Web:

www.sullivanlaw.com
Ameek is director of Sullivan's Tax Department and a former member of the firm's Management Committee. He concentrates his practice in structuring corporate mergers and acquisitions, designing REIT transactions and financial instruments and working on cross-border financings and acquisitions.
Ameek has represented public and private REITs in an array of real property sectors, including: business storage facilities; cold storage facilities; communications towers; data centers; dark and lit fiber; digital billboards; distributed antenna systems; foreign real estate; hotels and travel centers; industrial properties; mortgage REITs; multifamily residential; office buildings; retail properties; senior living facilities; solar, wind and power infrastructure; timberlands; transmission and distribution lines; and vineyards, greenhouses and other agricultural properties.
Ameek is nationally recognized for his work in REIT conversions and REIT cross-border matters.
Representative Client Work:
Designed tax structure for well over 1,000 M&A deals
Converted C corporations to public REITs in the travel centers, communication towers, business storage and data center industries
Designed tax structure for first REIT-to-REIT spin-off
Introduced Irish, Canadian and Singapore investors into U.S. real estate deals on a tax-efficient basis
Negotiated novel M&A structures including leveraged partnerships and master prepaid leases
Implemented efficient tax structures for REITs investing in 50 countries world-wide
Defended the portfolio interest exemption from IRS challenge to an Islamic law-compliant transaction denominated as a lease rather than a loan
Sullivan's Tax Group provides time-is-of-the-essence, state-of-the-art, partner-level advice on a wide range of complex tax issues. Averaging over 20 years' experience each, our tax partners creatively address the entire spectrum of tax-related legal matters, from tax planning for sophisticated corporate reorganizations to the representation of clients in adversarial proceedings with the Internal Revenue Service and state tax authorities.
Regardless of the context or forum, our Tax Group identifies each client's objectives and then designs efficient and cost-effective strategies for achieving them. We solve complex problems across a wide range of tax regimes for a wide range of clients, including:
International, federal and state tax planning
Tax planning for business owners, investors and high-net-worth individuals (HNWI)
Tax planning for mutual funds, REITs and other pooled investment vehicles
Tax planning for public charities and private foundations
Tax planning related to employee benefits and executive compensation plans
Public company tax compliance and representation
Representation in federal and state tax controversies, including administrative appeals and all phases of litigation
We serve corporate taxpayers across a wide variety of industries throughout the U.S. Our international work is often a result of our connections with other professionals around the world.
Many of our clients reflect our depth in the real estate, private equity, and financial services sectors. Our size and national reputation demonstrate our commitment to quality, an ability to design creative solutions to complex problems and the insight to understand and achieve our clients' goals.
As an international law firm with innovation in our DNA, we attract clients that are visionaries, trailblazers and game changers. Established companies pushing their industries in bold new directions. Growing businesses seeking new markets. Emerging companies pursuing disruptive business models.
From investment management, cutting edge REITs and opportunity zones, to blockchain ventures and international tech IPOs, Sullivan guides organizations that are rewriting the rules. Our clients bring out our best – strategic vision, comfort with complexity and intense focus on results. Working together, we help them recognize new options and make confident strides to success.
Together we're recalibrating what it means to work with a law firm.
Ameek Ashok Ponda covers a range of tax-related work, from the structuring of financial instruments and REIT transactions to the tax elements of M&A. "He is a really strong practitioner; he is super knowledgeable, and has a dynamic practice. He has phenomenal REIT expertise."