Kimberly Lowe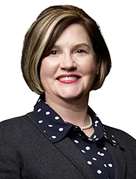 Avisen Legal, PA
901 Marquette Avenue South
Suite 1675
Minneapolis, MN 55402
Tel: 612-584-3403

Email:

klowe@avisenlegal.com
Web:

www.avisenlegal.com
For over 20 years I have lawyered from the trenches with experience based on a comprehensive knowledge and understanding of how both for-profit and nonprofit enterprises operate. I guide entrepreneurs, executive management teams, boards of directors, multigenerational families, shareholders and investors through all aspects of the business life cycle from formation to operation to exit.
I provide legal services to many sectors of the economy. I work with social ventures, private and public companies, limited liability companies and partnerships, nonprofit organizations and cooperatives. I help my clients navigate through general business matters, corporate governance, debt and equity financing, purchase and sales, SEC and IRS compliance, business strategy joint ventures and complex reorganizations.
I bring an extensive set of entity and contract tools to help business owners, managers and families navigate through the succession of a business from one or more owner/operators to the next set of owners, with special attention to professional service businesses that may or may not be outright salable.
In the nonprofit sector, I have worked with all types of organizations ranging from public charities to religious organizations and have counseled them through every intricacy of the nonprofit business life cycle.
In addition to deep legal experience, I bring a breadth of leadership experience to the table for all my clients regardless of sector, purpose or goals. I serve a diverse group of clients on matters involving Benefit Corporations, Business Corporations, Business Strategy and Complex Succession Planning, Cooperatives, Corporate Governance, Debt and Equity Financing, Joint Ventures and Complex Reorganizations, Limited Liability Companies, Partnerships and S Corporations, Non-Profit and Tax-Exempt Organizations, Purchases and Sales of Businesses, SEC and IRS Compliance, Social Enterprises, Private and Public Companies and Employment Law.
Recognized as a Best Lawyer by Best Lawyers, 2021
Recognized as a Best Lawyer in the Midwest for Non-Profit/Charity Law by Best Lawyers, 2021
Nominated for Minnesota Monthly's 2021 Best Lawyers
Named a Top Woman Attorney by Minneapolis/St. Paul Magazine, April 2021
Minnesota State Bar Association Pro Bono All-Star, 2012-2018 and 2020
Minnesota State Bar Association North Star Lawyer, 2012-2020
Minnesota Business Magazine, The (REAL) Power 50 Award, 2014
Minnesota Lawyer, Attorney of the Year, 2011 and 2014 and circle of excellence
BestPrep, Volunteer of the Year Award, 2006
Minnesota Justice Foundation, Outstanding Service Award, 2006
We focus on representing businesses, business-owners, investment funds and non-profits on the legal issues that relate to the formation, operation, growth and sale of their businesses.
If you are starting up a business, fund or non-profit, hiring or firing employees, negotiating contracts, raising capital to make it grow, building a plant, buying other companies, selling your company or need to set up your estate to take care of the next generation, we are here for you and we want to help.
We average over 20 years of experience per attorney, so we have seen and done most things.  We use our experience to achieve your goals effectively and efficiently.  We also leverage the same technologies used by larger law firms to prepare documents and research the law.
When needed, we partner with other high quality law firms, either in specific practice areas (even equine law if needed) or locations to get you the results you need.  We answer our own phones and respond to our own emails.  We add paper to the printer.  We do what it takes to serve you.
We take pride and joy in seeing our clients succeed.  We also take pride and joy in helping each other succeed.  We believe this makes us better lawyers and that means better results for you. We are entrepreneurs.  We manage our own business, just like you.  We understand both the passion and pain of owning and running a business.  That lets us craft solutions for you that are practical and meet your needs.
"You will find Kim to be one of the most pragmatic, straightforward and competent lawyers you've ever met. Kim is the kind of attorney who nerds out over crafting statutes and standards but also has a personality. She is amazing and super well respected. Her firm Avisen helps taxable and tax-exempt entities so she's well versed. If you need a source to refer out to, I can't think of a more capable attorney than Kim."