Michael R. Lofgran
Utah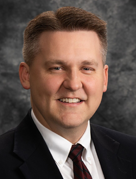 Huntsman | Lofgran, PLLC
623 E. Fort Union Boulevard
Suites 108 & 201
MIdvale, Utah 84047
Tel: 801-838-8900

Email:

michael.lofgran@hla-law.net
Web:

www.hla-law.net
Michael has been a managing partner with Huntsman | Lofgran, PLLC from its inception. His practice focuses on tax controversy work, resolving individuals' and small businesses' tax problems with the IRS. He also is well-versed in bankruptcy law.
Michael has successfully settled millions of dollars in tax liabilities for his clients and reduced hundreds of out-of-control tax problems down to manageable solutions. "There is always a way through every tax problem," Michael maintains. He devotes a sizable portion of his practice to tax and estate planning for his clients' businesses and personal estates. He also assists will executors through the probate process and trustees in meeting their fiduciary responsibilities.
Prior to co-founding Huntsman | Lofgran, PLLC, Michael served as an associate with Jackson Walter Evans & Huntsman, PLLC.
Michael is an avid supporter of the Kidney Foundation. Fluent in spoken and written Russian, he is a World War II and U.S. Civil War history enthusiast. He enjoys mowing his lawn and playing (usually losing) a rousing game of Sorry! or Monopoly with his children. Camping and being in the out-of-doors are favorite activities, and as a fixture of those camping trips Michael always burns his marshmallows before making s'mores.
Education:
LL.M., taxation, University of Denver, Sturm College of Law, 2004
J.D., University of Arkansas at Little Rock, William H. Bowen School of Law, 2003
B.A., Russian and international relations, Brigham Young University, 1999
Tax problems can take a big toll on you financially, physically and emotionally. If you're a business and owe big bucks, governmental tax agencies may contact your clients and vendors directly to intercept payments due to you. If you're an individual, they may go after your paycheck and bank accounts. Our legal team at Huntsman | Lofgran, PLLC works with you and the authorities to help get your taxes in order. We assist individuals, professionals and small, mostly privately held, businesses with this issue.
Our firm boasts a long record of tax issue resolutions. One immediate advantage we bring to "national" tax resolution groups is that we are based in the Beehive State, so we have a great deal of experience and have established many effective relationships with the IRS and Utah state tax authorities in Salt Lake City.
Whether you're an individual or a business, it doesn't pay to gamble with the IRS and the Utah State Tax Commission. If you don't take control of your situation, the house always wins, emptying your bank accounts or garnishing your wages, seizing your business or advising your vendors and clients to make their payments directly to the government.
Huntsman | Lofgran, PLLC, formerly Huntsman, Lofgran & Associates, is a full service law firm offering Utah residents and businesses resourceful legal counsel, attentive, personalized and thorough assistance, and tough, proven courtroom representation across a range of critical legal and financial matters. Moreover, our team approach puts more than 50 years of combined legal experience on your side of the table, providing greater perspective that can lead to more creative solutions.
We provide Utah businesses with general counsel for day-to-day operations, including contract review and regulatory compliance, and help them solve Internal Revenue Service (IRS) and Utah taxation issues, shareholder disputes and formation and bankruptcy challenges. We help Utah residents resolve family law matters such as divorce, and financial legal matters such as bankruptcy, personal injury cases and estate planning, including probate and contested wills and trusts.
Huntsman | Lofgran, PLLC provides big-firm capabilities with a more personal level of attention you would expect from a smaller firm. Your matter is overseen by a team of attorneys — and our team approach ensures that you can always reach an attorney regarding your matter whenever you need.
Our clients represent a wide range of Utahns, from professionals such as lawyers, doctors and contractors, and Mom and Pop operations, to larger businesses. The individuals we help with personal law matters include business people, married couples with children, and seniors looking to leave a legacy or devise contingency plans should they become infirm.
"Whether you're a business or an individual, a tax audit and resulting liens and levies by either the State of Utah or the IRS can make for an unnerving experience. Our tax lawyers counsel you on how to best manage your exchange with tax authorities and represent you in negotiating unfiled tax returns and unpaid taxes."