Caroline D. Ciraolo
District of Columbia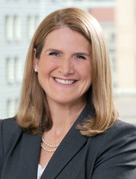 Kostelanetz & Fink, LLP
601 New Jersey Avenue, NW
Suite 620
Washington, DC 20001
Tel: 443-845-4898

Email:

cciraolo@kflaw.com
Web:

www.kflaw.com
Caroline D. Ciraolo, former Acting Assistant Attorney General of the U.S. Department of Justice's Tax Division, is a partner with Kostelanetz & Fink and a founder of its Washington, D.C. office. Her practice focuses on complex and sophisticated civil tax controversies, including representation in sensitive audits, administrative appeals, and litigation in federal and state courts and administrative tax tribunals, conducting internal investigations, consideration of domestic and foreign compliance options including voluntary disclosures, and representing individuals and institutions in criminal tax investigations and prosecutions.
During her tenure with the Justice Department, Caroline was actively involved in all aspects of Tax Division operations and responsible for approximately 500 employees, including more than 360 attorneys in 14 civil, criminal and appellate sections. Under her leadership, the Division reached agreements with 80 Swiss financial institutions that admitted to facilitating tax evasion and the avoidance of reporting requirements by U.S. account holders, and imposed and collected more than $1.36 billion in penalties, increased civil and criminal enforcement with respect to offshore tax evasion, employment tax violations, and traditional tax offenses, assisted the IRS through summons enforcement proceedings, and engaged in affirmative and defensive litigation involving abusive tax shelters and schemes, refund claims, and challenges to statues and regulations.
Prior to joining the Department, Caroline was Chair of the Tax Controversy and Litigation practice group of a regional firm in Baltimore, Maryland, where she represented individuals and businesses in all phases of state and federal civil tax controversies and criminal tax investigations and prosecutions. She has appeared before the IRS, the D.C. Office of Tax and Revenue, the Maryland Tax Court, the U.S. Tax Court, U.S. District Courts, the Maryland circuit and appellate courts and the U.S. Court of Appeals for the Fourth and Federal Circuits.
Caroline is a Fellow and Officer of the American College of Tax Counsel and Chair of the Civil and Criminal Tax Penalties Committee of the American Bar Association's Section of Taxation. Caroline has also served as an instructor with the IRS Military Volunteer Income Tax Assistance program at Ft. George G. Meade in Maryland.
She has been recognized by Chambers (Tax Fraud (Nationwide), Tax (DC)), Benchmark, Best Lawyers in America (Litigation and Controversy – Tax, Tax Law), Super Lawyers (Top 10 Attorneys in Maryland, Maryland cover story in 2013, DC), Euromoney Legal Media Group's Americas Women in Business Law Awards (Best in Tax Dispute Resolution) (2014), and The Daily Record's Top 100 Women Circle of Excellence. Caroline is a recipient of the ABA Section of Taxation's Janet Spragens Pro Bono Award, and in January 2017, she was recognized by IRS Chief Counsel William Wilkins with the Chief Counsel Award, the highest honor that can be conferred by that office.

Kostelanetz & Fink, LLP has built a national reputation as the law firm of choice for clients facing high-stakes negotiations and controversies with government agencies.  Our attorneys have unparalleled experience in tax controversies, white collar defense and regulatory matters, and as a result handle the most challenging, complex and sensitive cases.  An important part of the firm's practice includes tax and estate planning and representation in government procurement and government contracting.
In 2018, we were honored as Tax Team of the Year by Chambers USA. The award highlights our strength in the tax controversy sphere and highly regarded work on criminal tax cases, as well as our expansion to a new office with top-level talent in Washington, D.C.
We are skilled attorneys who approach each matter strategically — based on decades of litigation experience. Our partners are regularly sought out as teachers and lecturers and we literally wrote the book on civil and criminal tax controversies.
Our attorneys have served as former senior leaders of the Internal Revenue Service, the United States Department of Justice and other prosecutors' offices.  Several of our attorneys have masters' degrees in taxation and/or have served as federal judicial law clerks.
Our personalized attention to each client is unparalleled.  Our clients, large and small, have immediate access to our partners and to our most senior attorneys.  The firm focuses on providing value to its clients, and is sensitive to the balance between cost and benefit inherent in every legal assignment.  As a result, the firm has the depth and flexibility to add attorney strength as the needs of the client or matter demand.
Kostelanetz & Fink, LLP is well known for its creative strategies and tenacious advocacy and has enjoyed extraordinary success achieving favorable results for clients.