Christopher M. Hurst
Kansas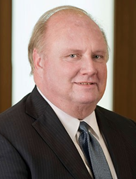 Foulston Siefkin LLP
1551 N. Waterfront Parkway
Suite 100
Wichita, KS 67206-4466
Tel: 316.291.9507

Email:

churst@foulston.com
Web:

www.foulston.com
Mr. Hurst provides income tax minimization strategies for a broad range of business transactions, including formation and restructuring of C corporations, partnerships, S corporations, and limited liability companies, acquisitions and dispositions. He is known for his deep knowledge of all facets of partnership taxation and has worked with and across the table from national law firms located throughout the United States to structure complex partnership agreements for his clients.
Mr. Hurst advises tax advantaged opportunity zone funds in their creation, operation, and regulatory compliance. He also negotiates and structures mergers and acquisitions and is adept at structuring, negotiating, and closing rounds of private debt and equity transactions, as well as advising clients on federal and state tax issues in transactional matters. His practice further includes tax due diligence matters and negotiating and drafting relevant tax provisions and tax sharing agreements. Mr. Hurst frequently advises start-ups and early stage companies on matters of governance, joint ventures and strategic partnerships, licensing issues, and executive compensation. His clients include large and mid-size businesses operating in numerous industries, including healthcare, energy, and manufacturing, as well as out-of-state entities engaged in transactions within Kansas.
Mr. Hurst represents individuals, partnerships, corporations, non-profit organizations and other business entities in all stages of tax disputes before the Internal Revenue Service and state and local tax departments, from audit through administrative appeal and post–appeals mediation, and at every judicial level. He frequently provides counsel to businesses engaged in interstate commerce, including e-commerce, regarding their multistate income and sales tax obligations. In addition, he serves as the firm's international tax chair, supplying guidance on the application of United States tax law to United States companies engaged in foreign transactions.
Mr. Hurst was recognized by Best Lawyers® as the 2011, 2017, and 2020 Wichita Tax "Lawyer of the Year." He is a fellow of the American College of Tax Counsel, which limits its membership to just 700 tax attorneys across the United States. Mr. Hurst has been selected by his peers for inclusion in The Best Lawyers in America© and the Missouri & Kansas Super Lawyers® list.
Serving businesses ranging from Fortune 50 corporations to closely held companies and their accountants and CPAs, as well as charities and high-net-worth individuals, Foulston Siefkin's Taxation Practice Group helps clients minimize their tax exposure, develop and implement effective domestic and international tax planning strategies, and resolve complex tax controversies.
Based in Kansas with offices in Wichita, Topeka, and Kansas City, Foulston Siefkin's Taxation attorneys work with clients from major metropolitan cities and rural areas across the Midwest, and with international companies that do business in the U.S. Foulston Siefkin regularly represents for-profit and tax-exempt health systems; oil and gas companies; business owners and executives; high-net-worth individuals and families; real estate developers; franchisees; agribusinesses; charities and foundations; and others across the industry spectrum.
Foulston Siefkin's tax attorneys understand the challenges facing clients today and stay informed on the latest rulings that reduce tax burdens. The firm regularly addresses issues ranging from the uncertainty of state and local tax codes and internet sales tax collections to accessing capital through nontraditional channels and identifying tax-advantaged economic incentives. The tax team includes attorneys inducted as Fellows of the American College of Tax Counsel and American College of Trust and Estate Counsel; those who hold LL.M. or master's degrees in taxation; and many who have been recognized by Chambers USA, Best Lawyers, and Super Lawyers as leaders in their field.
Foulston Siefkin's service to clients is also enhanced through cross-practice collaboration with other lawyers within the firm, including those from the Estate Planning & Probate, Business & Corporate Law, Real Estate, and Mergers & Acquisitions teams. This full-service approach is designed to seamlessly incorporate comprehensive tax counsel, as needed, to deliver value-added efficiencies and bottom-line benefits to clients.
Established in 1919, Foulston Siefkin LLP is the largest and one of the oldest law firms in Kansas, with a strong tradition for legal excellence. We're proud to have our roots and our future in Kansas and the Midwest. The firm has grown to nearly 90 lawyers with offices in Kansas City, Topeka, and Wichita. Since our firm is based in Kansas, our clients benefit from a lower cost basis that can lead to a more personal, higher-value delivery of legal services from lawyers recognized by national organizations as among the leading lawyers in the United States.
The firm represents a broad range of clients mirroring the Kansas economy, including major agriculture, energy, and natural resource producers and processors, construction general and sub-contractors, corporations, financial institutions, franchisers and franchisees, health care and senior care providers, insurance companies, manufacturers, professional entities, public utilities, service providers and others. The firm's practice areas cover the spectrum of the legal profession.
It is the mission of Foulston Siefkin LLP to provide valuable, high-quality professional services in a variety of areas of the law at a reasonable cost to the client. Foulston Siefkin strives to maintain expertise in business and corporate matters, as well as all phases of litigation. Foulston Siefkin seeks recognition by its clientele and its peers as outstanding advocates and counselors whose reputation for honesty and integrity is absolute. In fulfilling its mission and position of eminence, the firm will achieve appropriate growth by attracting talented professionals dedicated to the practice of law who will prosper financially and intellectually while serving the best interests of its clients.
"Christopher Hurst is a highly respected practitioner who concentrates on advising clients on tax minimization strategies. In addition to that, he also handles issues such as acquisitions and dispositions."