Denton Woods
Arkansas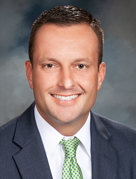 RMP LLP
5519 Hackett Street
Suite 300
Springdale, AR 72762
Tel: (479) 443-2705 Ext. 10109

Email:

dwoods@rmp.law
Web:

www.rmp.law
Denton Woods is Partner with RMP LLP practicing in the fields of estate planning, probate and trust administration, taxation law and planning, business law, including mergers and acquisitions, and tax-exempt organizations. He is admitted to practice in Arkansas, Oklahoma, Texas and before the United States Tax Court.
He received his undergraduate degree in Business Administration from the University of Arkansas Sam M. Walton School of Business, his law degree from the University of Arkansas in Fayetteville, and his Master of Laws degree from the University of Florida in Gainesville.
He began working for the firm in January 2006, joined as an associate attorney in August 2007 and became partner in January 2012. In September of 2017, Governor Asa Hutchinson appointed Denton to the Arkansas State Board of Public Accountancy.
Associations & Memberships
Member of American Bar Association
Member of Arkansas Bar Association
Member of Oklahoma Bar Association
Member of Texas Bar Association
Member of Washington County Bar Association
 Honors, Memberships and Recognition
Lawyer of the Year in Trust and Estates – Fayetteville AR, 2023 (The Best Lawyers in America).
The Best Lawyers in America, 2021-present (Business Organization, Tax Law, Trust and Estates)
Lawyer of the Year in Tax Law Fayetteville AR, 2022 (The Best Lawyers in America)
Appointed to the Arkansas State Board of Public Accountancy by Governor Asa Hutchinson
Fellow, American College of Trust and Estate Counsel (ACTEC)
Member, Dean's Advisory Council for the Sam M. Walton School of Business at the University of Arkansas
Northwest Arkansas Business Journal's FAST 15
Member, Arkansas Law Review, 2005-2006
Former Member, Northwest Arkansas Children's Shelter Planned Giving Committee
RMP provides tax advice to individuals and closely held corporations, limited liability companies and partnerships on many issues, including:
tax controversies involving estate, gift, income, sales, and use taxes;
start-up and ongoing tax planning for business entities;
tax planning for sales, purchases and mergers of businesses and business assets;
tax issues related to corporate finance and debt relief;
tax planning for tax-exempt organizations, private foundations and charitable giving; and
tax planning for real estate transactions, including real estate development planning and IRC Section 1031 exchanges.
Tax Controversies
RMP is uniquely positioned to offer the most experienced team of civil and criminal tax attorneys in Arkansas within one law firm.  Our tax defense team consists of former state and federal prosecutors with years of prior experience prosecuting criminal tax cases now utilizing that knowledge base and experience for the benefit of our clients.  When combined with the experience and expertise of our civil tax division, RMP represents a uniquely skilled group of attorneys who have successfully represented clients at each stage of the tax process, from IRS administrative proceedings, to criminal prosecutions.
Tax-Exempt Organizations & Charitable Planning
In addition to assisting clients in implementing foundational estate planning goals, RMP also helps clients carry out their philanthropic efforts. RMP's experience includes:
forming tax-exempt entities, including private foundations and 501(c)(3) charities, as well as advising clients regarding the operation and governance of these entities; and
implementing charitable estate planning strategies, including all forms of charitable trusts, in order to obtain favorable transfer and income tax savings for the client.
With over one hundred years of combined practice in taxation, transaction matters, trust and estate planning, and litigation, RMP has the knowledge and experience necessary to offer its clients the highest quality of legal services.
The vision of RMP is to provide the families and businesses of Northwest Arkansas with a level of tax, transactional, and trust and estate planning expertise typically found only in large metropolitan law firms. RMP has been one of the fastest growing firms in Arkansas for more than 10 years.
From the agricultural richness of the delta through the deep southern timberlands, RMP not only acknowledges but honors the historical significance of our background. We continue to be shaped by the evolving needs of our clients and community, having a network of connections extending notably through our state capital, east to the delta, south to the timberlands and back up to the heart of the Ozarks. And while RMP's expertise continues to be sought nationwide, our knowledge and appreciation of this great state remains constant. To the firm, Arkansas is another name for home.