Gary J. Elkins
Louisiana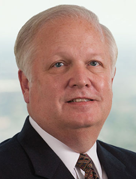 Elkins PLC
201 St. Charles Avenue
Suite 4400
New Orleans, LA 70170
Tel: 504.529.3600

Email:

gelkins@elkinsplc.com
Web:

www.elkinsplc.com
Gary Elkins founded Elkins, PLC in 1989. Gary engages in a broad-ranging general business practice, including federal and state tax credits, real estate development, partnership, corporate and securities matters, mergers and acquisitions. He is a commercial litigator, experienced in tax-related litigation, administrative alternatives for resolution of tax disputes through the Internal Revenue Service appeals procedures, and bankruptcy litigation.
Gary represents both privately and publicly held companies with respect to recapitalizations, corporate finance and federal securities law compliance. He has served as an arbitrator of securities disputes for the New York Stock Exchange and has been retained on numerous occasions as an expert witness in securities law and tax litigation matters. He has also served on the Securities Law Committee of the Young Lawyer's Division of the American Bar Association.
Gary represents and advises public entities and private developers in major real estate developments. Gary is nationally recognized for his expertise with respect to federal tax incentives, including Historic Rehabilitation Tax Credits, conservation contributions (facade easements), and low income housing tax credit(s), New Market Tax Credits and real estate syndications and tax representation of historic property development on a nationwide basis. He has served either as general counsel or special tax counsel for most of the residential real estate developments presently located in the Historic Warehouse District in New Orleans. Most recently he assisted in the drafting of the newly adopted Texas State historic tax credit statue, and currently represents a number of new developments that are utilizing the credit.
Honors & Awards:
Board Certified Tax Attorney – Louisiana Tax Specialization Board
The Best Lawyers in America (Taxation, Trusts & Estates and Real Estate)
Outstanding Lawyers of America
Louisiana Super Lawyers
Who's Who in America
Who's Who in American Law
The Bar Register of Preeminent Lawyers
Martindale-Hubbell Law Directory – AV Rating
Navy Achievement Medal awarded by Secretary of the Navy
Historic Rehabilitation Tax Credits
Elkins, PLC provides comprehensive services to clients involved with the development and restoration of historic properties, including structuring of financing, negotiations with tax credit investors, real estate and tax issues involved in the acquisition, construction, placement in service, operation and exit strategies for historic projects. Our Team has more than thirty years of experience in representing owners, developers, investors and lenders on projects throughout the U.S. that rely upon Federal and State Historic Rehabilitation Tax Credits as an integral part of their financing structure, equating to billions of dollars of development. We are widely recognized for our work with Historic Rehabilitation Tax Credits.
Low Income Housing Tax Credits
Elkins, PLC provides comprehensive services to clients developing affordable housing, including project structuring, project financing, negotiations with tax credit syndicators, real estate and tax issues involved in the acquisition, construction, placement in service and operation of the project. We have been instrumental in guiding the development and financing of affordable projects, mixed-income projects and mixed-use projects, totaling billions of dollars in debt and equity closings. Our Team is nationally recognized as a leader in the representation of both for profit and non-profit organizations in the development of affordable housing financed with the assistance of Low Income Housing Tax Credits.
New Markets Tax Credits
Elkins, PLC is actively involved in the Federal and State New Markets Tax Credit programs. We represent tax credit investors, leveraged lenders, community development entities and qualified active low-income community businesses, in transactions ranging from $6 million to $100 million dollars. Our Team provides comprehensive services to clients developing New Markets Tax Credits eligible projects throughout the U.S. including structuring, financing, negotiations with tax credit investors, real estate and tax issues, acquisition, construction, operation and exit strategies for the project.
Louisiana Live Performance & Infrastructure Tax
Elkins, PLC works with developers of live entertainment venues, production studios and individual film producers, the State of Louisiana Governor's Office of Film and Television and the Louisiana Department of Revenue to achieve the maximum tax credit benefit for projects. The successful tax credit structures that we generate provide additional revenue for live production facilities and film producers and provide millions of dollars of direct spending into the Louisiana economy. Our Team has been instrumental in the use of the Live Performance Tax Credits, the Live Performance Infrastructure Tax Credits, Infrastructure Tax Credits and Motion Picture Incentive Programs.
Estate Planning & Administration
Elkins, PLC assists clients with a variety of personal planning for individuals, families and fiduciaries including the preparation of wills and trusts, health care and financial decision making, planning for disabled family members, asset protection planning, gifting programs, charitable giving, long-term care planning, retirement planning, business succession planning and marital property agreements. Our Team develops valuable strategies for individuals, as well as for multi-generational and complex holdings. We negotiate and structure corporate, real estate, partnership and other types of business transactions, including family partnerships and limited liability companies as part of the overall estate planning process. We also advise fiduciaries and beneficiaries of estates and trusts in negotiating settlements of family disputes and provide advice on valuation and tax issues in gift and estate matters. We represent succession representatives and heirs in the litigation process, as well as estates and donors in audits and litigation with the IRS.