Guinevere M. Moore
Illinois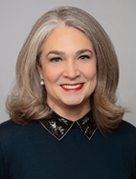 Johnson | Moore
150 North Wacker Drive
Suite 1250
Chicago, IL 60606
Tel: (312) 549-9993

Email:

guinevere.moore@jmtaxlitigation.com
Web:

www.jmtaxlitigation.com
Guinevere Marie Moore is a tax litigator who represents taxpayers in civil and criminal tax controversies.  She is a Founding Partner of Johnson | Moore and advocates for taxpayers at the IRS examination and appeals levels and, if a settlement with the IRS cannot be reached, in litigation. She is also the Executive Director of US Partnership Representative, Inc., and in that role she serves as a professional partnership representative.
Ms. Moore has represented hundreds of taxpayers throughout her career, and draws on her experience in working with her clients, with the IRS, and with opposing counsel to help craft and execute the best possible plan to resolve the issues her clients are facing.  Ms. Moore has successfully defended taxpayers against assessment of all types of federal tax, including income tax, employment tax, estate tax, gift tax, civil penalties, and criminal penalties.
Ms. Moore's significant experience in practicing before the IRS and in the United States Tax Court enables her to work together with her clients to determine the best path forward to resolving the tax dispute – whatever Internal Revenue Code section may be at issue.  The Internal Revenue Code contains thousands of provisions, and no tax professional has encountered them all.  But having years of experience with the procedural hurdles that a taxpayer has to jump through in order to resolve a disagreement with the IRS over how much tax is due facilitates a much easier journey towards agreement or resolution through litigation.
Ms. Moore particularly enjoys the client counseling that she performs in her role as a taxpayer's advocate. Having navigated hundreds of disputes with the IRS she is able to guide clients through what is often the most difficult crisis they are facing in their lives.  Her clients will never wonder what comes next, or how the most recent development will impact them, because Ms. Moore routinely explains the process, the anticipated timeline, our strategy, and how all of the pieces come together.
Ms. Moore is actively involved in the American Bar Association, Section of Taxation.  She is the Chair of the Standards of Practice Committee of the Section of Taxation.  In that role, she designs programming designed to ensure certain ethical standards are met in tax representation nationwide.  She is a frequent speaker at national and local conferences on topics related to tax, ethics, and the ethics of tax.
Ms. Moore launched what has become an active pro bono program designed to help low income taxpayers receive representation that they could otherwise not afford.  As part of this process, she co-authored and designed a four-part training series for representing low-income taxpayers before the IRS.  She has been recognized for her pro bono work as the volunteer of the year by the Center for Economic Progress, and has represented over one hundred clients pro bono.
Ms. Moore lives in Chicago with her husband and her four children.