Kristina E. Somers
Wisconsin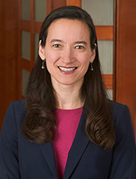 Reinhart Boerner Van Deuren s.c.
1000 North Water Street
Suite 1700
Milwaukee, WI 53202
Tel: 414.298.8249

Email:

ksomers@reinhartlaw.com
Web:

www.reinhartlaw.com
Kristina E. Somers is a shareholder in Reinhart's Tax, Litigation and Tax-Exempt Organizations practices. She advocates on behalf of clients involved in tax controversy disputes in Wisconsin and other states.
Kristina also offers planning strategies to minimize taxes for businesses operating in Wisconsin and those with multi-state operations. Over the course of her career, she has gained significant experience assisting clients in a variety of state and local tax matters including sales and use taxes, income and franchise taxes, property taxes and real estate transfer fees.
Kristina primarily serves clients in the following areas: State and Local Tax, Tax Controversy and Litigation, Tax-Exempt Organizations and Federal Tax Planning.
In addition to her work on tax issues at the state level, Kristina also handles matters related to federal tax, including Federal Tax Controversy and Litigation and Federal Tax Planning. She also is an experienced litigator.
Representative Matters:
Won case at the Wisconsin Supreme Court, resulting in property tax exemption for a hospital outpatient center and a refund of more than $8 million to the taxpayer
Negotiated property tax exemption for a specialty hospital, resulting in annual tax savings of more than $1 million
Received a victory for a personal holding company in a significant case where the court agreed that the company's income was not subject to Wisconsin tax
Successfully negotiated with a Wisconsin Department of Revenue auditor and computer audit specialist to reduce the sales/use tax assessment of a computer services company by 70%
Obtained a significant reduction in the property tax assessment of a tax credit property, which was critical to the continued survival of a special-purpose entity formed solely to hold that property
Secured property tax exemption for a daycare facility
Negotiated reduction of penalty imposed by the Illinois Department of Revenue for late payment of sales taxes
Resolved Tennessee sales/use and income/franchise tax audits resulting from asserted successor liability
Obtained Illinois property tax exemption for a hospital facility
As part of a practice area that has its roots in the earliest days of our firm, Reinhart Boerner Van Deuren's Tax attorneys have earned a reputation of providing cost-effective and practical solutions to our clients' tax and legal challenges. We listen and respond, but more importantly, we get results. This is reflected in our established record of obtaining significant tax reductions for our clients, both in and out of court.
At Reinhart, we understand that the ability to make sound business decisions relies in large part on having access to clear and consistent information – particularly how taxation can affect your business' finances. Since its inception, our Tax Practice has been guided by a commitment to stay ahead of continuously changing laws and regulations and find creative yet practical tax law solutions for our clients. Drawing on experience from a deep bench of attorneys that are well-versed in a wide range of issues, Reinhart's Tax attorneys are adept at working the entire continuum of tax law, from reducing tax burdens to defending audits to tax controversy and litigation.
Leveraging our valued perspective as a law firm that fully understands and appreciates how business decisions are made, our attorneys work to provide counsel that frames tax advice in a larger business context. As a result, our clients understand the most tax-efficient way to achieve their business goals. We pride ourselves on simplifying the complexity of tax law for our clients and equipping them with actionable information that allows them to make better decisions based on the tax ramifications. Our thorough, proactive approach provides clients the peace of mind that comes from knowing their tax law solutions are optimal for their unique situation and business setting.
Reinhart's Tax Practice is dedicated to reducing the tax liabilities of the Wisconsin-based, national and international businesses we serve. Closely owned companies, in particular, benefit from our strategic tax insights, depth of experience and our success in a number of landmark tax cases. We represent clients at the local, state and federal level.
At Reinhart Boerner Van Deuren, we know that every trusted relationship begins with understanding. That is why each of our committed attorneys takes the time to listen critically, learn the unique attributes of each client's business, and work together to build a foundation for success that goes beyond providing legal services. While doing so, we draw upon an exceptionally broad base of experienced attorneys and a deep knowledge of the industries and sectors we serve. This blend of active understanding grounded by informed perspective equips our attorneys to deliver uniquely creative, yet efficient, legal counsel.
By consistently offering our clients cost-effective and innovative legal counsel, we have established ourselves as trusted advisers in many areas of corporate law. Our Client Service Standards, upheld to by all lawyers and staff, affirm our commitment to put the needs of our clients first and to pursue excellence in all that we do.
Reinhart meets the ever-evolving needs of today's business with innovation, focus and commitment. The firm's nearly 200 attorneys are dedicated to providing accessible, responsive service from our nine offices throughout the country. Founded in 1894, Reinhart ranks among the nation's 200 largest law firms. We serve as attorneys and counselors to public and privately held corporations, financial institutions, family-owned businesses, Taft-Hartley retirement plans, exempt organizations and individuals. Throughout our history, we have relied on entrepreneurship, teamwork and dedicated service to help our clients achieve their business goals. Our client-driven approach is firmly rooted in creative thinking, intelligent advice and conscientious service, no matter what area of business law our clients require.