Pedro A. Perez-Roura
Florida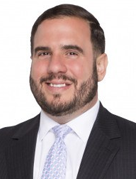 Perez-Roura Law
2828 Coral Way
Suite 203
Miami, FL 33145
Tel: (305) 359-3888

Email:

ppr@perezrouralaw.com
Web:

www.perezrouralaw.com/
Pedro's experience includes handling matters involving tax, real estate, estate planning, asset protection and business law. He has successfully represented clients in various types of transactions as well as in the courtroom and with various administrative agencies such as the IRS, Florida Department of Revenue, and the Miami-Dade Value Adjustment Board, among others.
His clients have included real estate investors, both foreign and domestic, business owners, stockbrokers, doctors, lawyers, and even an international award winning musician. Pedro has helped his clients close complex deals, resolve difficult tax and legal issues, create estate and asset protection plans as well as litigate disputes when things go wrong.
Pedro helps business owners and professionals protect their family legacy – their family unity and financial future. He's provides three types of services for people located in Miami or in other countries:
Tax & Estate Planning – helping people setup their businesses and investments in ways that help reduce the amount of tax owed to the IRS, protect their assets from creditors, and eventually pass along those investments to their family. This includes setting up LLC's, trusts, and other investment entities, and finding ways to save for retirement in a tax friendly way.
Real Estate Closings – with years of experience as a real estate investor and attorney, Pedro knows how to get deals closed.

Tax Problem Solving – helping people solve problems with the IRS or Florida Department of Revenue when they have not paid what they owe.
Pedro is from Miami and attended some of Miami's best educational institutions – Christopher Columbus High School, Miami-Dade College, Florida International University (B.A. – Political Science), St. Thomas University School of Law (J.D.) and the University of Miami School of Law (Masters of Law – Taxation). 
Perez-Roura Law is dedicated to helping families protect their legacy. We help families buy their home, plan for life's most difficult moments, and save money on taxes along the way.  We understand the concerns families face when dealing with life's biggest moments, such as buying their home or dealing with a family member's death or serious illness.
At Perez-Roura Law, our mission to help families prepare for the legal aspects of life's biggest moments so they can focus on what's most important, the family.